Beplanting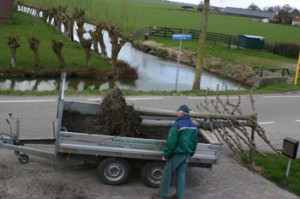 Alle in de tuin voorkomende planten hebben hun speciale eisen. Buiten dat er heel veel verschillende soorten en variëteiten zijn.
Aanleg nieuwe tuin
Het is zo dat een tuin vaak bestaat uit een aantal bomen. Daarnaast wordt er gewerkt met struiken daaronder of eventueel coniferen afhankelijk van de plaats. Dan komt de volgende laag aan bod namelijk de kleine heester of kruidachtige overblijvende planten.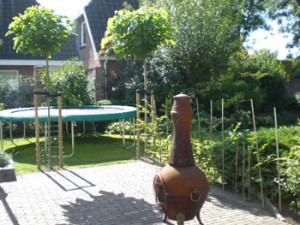 Hierin is het assortiment zeer groot, wat betekent dat het maken van een keus heel lastig kan zijn.
Bestaande tuinen
Hierin komen heel vaak bomen of struiken voor die soms te groot zijn geworden. Dit kan zijn doordat ze niet zijn onderhouden of omdat de keus in het verleden fout geweest is wat betreft het soort. Dan zijn er mogelijkheden om te gaan snoeien of over te gaan op vervanging van de betreffende boom of struik. Om in bestaande tuinen planten te vervangen terwijl er soms minder licht aanwezig is door aanwezige bomen vraagt enige kennis. Planten in een schaduwrijke omgeving zullen minder hard groeien. Hiervoor is een kleine groep geschikt om te gebruiken.
Hagen
Op het moment worden niet meer zo veel coniferenhagen toegepast als in het verleden. Wat nu veel voorkomt zijn de matten van betongaas die begroeid zijn met Hedera. Deze blijven heel smal als het goed wordt onderhouden. Maar ook hagen van beuken of taxus doen het nog steeds goed.